Optoi Group: Microelectronics Company Built on Research
Among Italian microelectronics companies, Optoi succeeded in consolidating its position thanks to a constant focus on research, a great innovating spirit and the ability to customise its products to meet the requirements of each customer. Once a research-based startup, Optoi is now a full-fledged Group comprising 5 subsidiaries specialising in manufacturing innovative systems for industry, mobility, environmental sustainability, biomedicine and aerospace.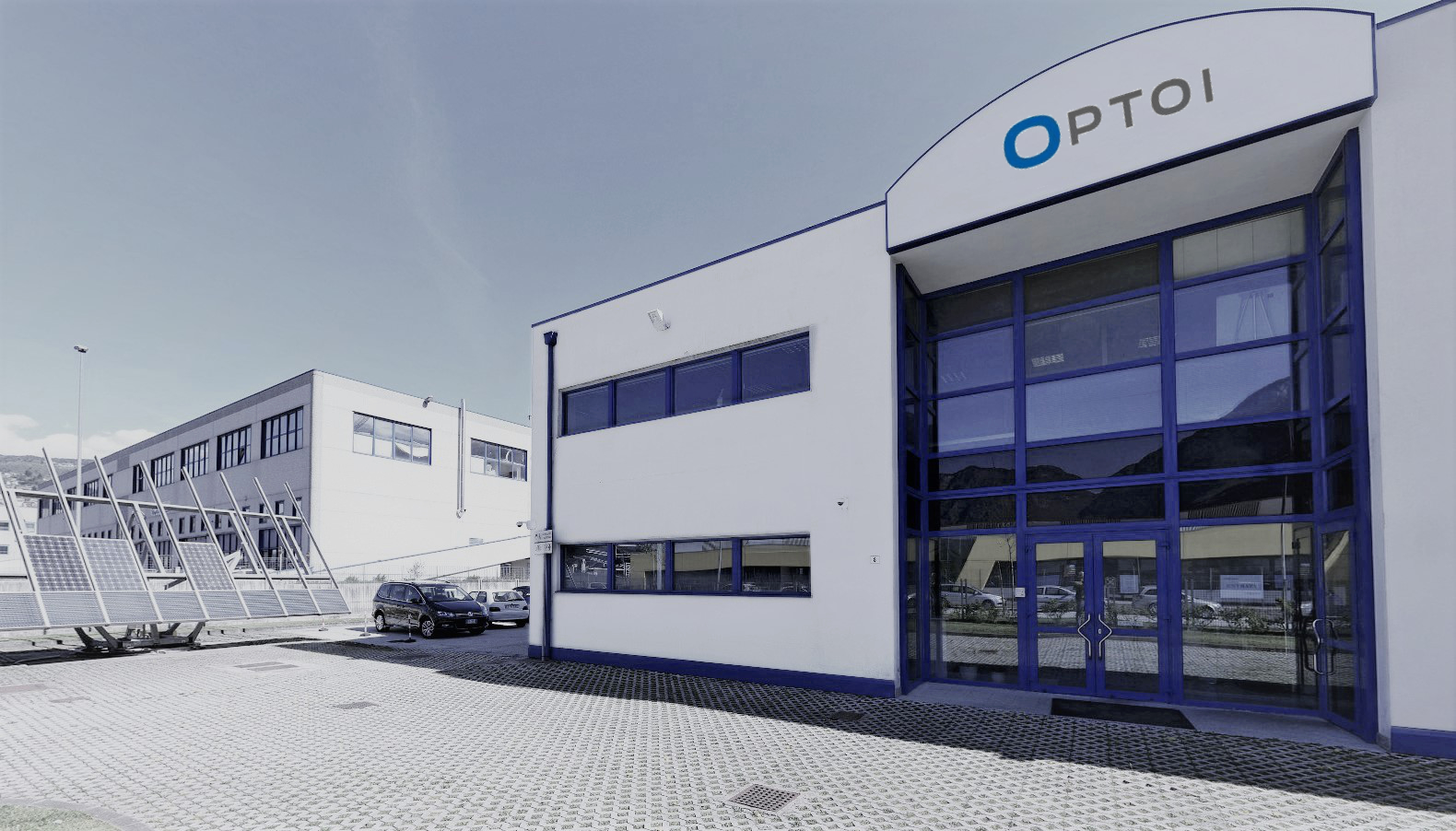 Optoi
Optoi is an industrial and investment holding company and the company with the longest track record. Optoi designs and manufactures in Trento, in the main office in Via Vienna, equipped with an advanced cleanroom for silicon processing.
Its
intense "custom" activity combines with well-structured industrial processes
for electronic and microelectronic mass manufacturing. The research and development activity carried out in support of the evolution of products in the
mobility sector
(earth moving machines and agricultural vehicles), in the
aerospace sector
(accredited partner of the main European bodies in components for satellites), in the
biomedical sector
(in particular on the study of micro-RNA as a function of the early detection of diseases destined to become chronic) and in the
green sector
(sensors to detect the main environmental parameters).
Eoptis
Eoptis is a subsidiary specialising in developing and manufacturing vision systems and optoelectronic measuring devices for the industrial world.
Cutting-edge technologies like colorimetry, multispectral imaging, and 3D measurement blend with proven architectures to produce robust and reliable products.
UpSens
UpSens is the youngest company in our Group. It was founded as an innovative startup focused on the environment as an integral part of individual and corporate well-being, deserving attention and collective responsibility. UpSens aims to introduce people-friendly devices in the home, company, school and other spaces to check the air quality and electromagnetic pollution.
The Next Sensor
The Next Sensor is the Group's subsidiary specialising in designing and manufacturing components, sensors, mechatronic equipment and IoT monitoring systems. Rooted in the Triveneto area and oriented towards the international market thanks to Innovasens, The Next Sensor collaborates with the University of Padua and the SMACT Competence Center.
Innovasens
Together with
SMETRO
, Innovasens oversees the emerging Brazilian market to spread Optoi's technology and know-how to the South American continent through on-site assembly activities.
A Networking Group
Our Group works with leading companies and renowned national and international research institutes.
Investee related companies
Industrio Ventures
Industrio Ventures is an investor and hardware startup accelerator with headquarters at the Polo Meccatronica in Rovereto (Province of Trentino) and hubs throughout Northeast Italy. Every year, Industrio Ventures invests in a limited number of startups, which provides the necessary support to achieve the ideal Time To Market the technological product. Industrio Ventures has its own network of industrial and technological partners to provide startups with the best combination of tools and knowledge, and collaborates with some of the most advanced and innovative manufacturing ecosystems in Italy.
Spreentech Ventures
New green start-up accelerator, with 25 partners, with the aim of building a center of excellence and avant-garde in which skills are developed, services are offered, innovation is made with companies, designers, managers, and industries in the construction sector.
SMACT Competence Center
One of the 8 highly specialized Industry 4.0 Competence Centers born in Italy on the initiative of the Ministry of Economic Development. It is a public-private body that systematizes the skills in the 4.0 field of Research, technology providers and early adopter companies.
Habitech
Habitech is the Trentino Technological District for energy and the environment acknowledged by the Ministry of University and Research and consists of around 170 companies, research bodies, and public agencies. Habitech represents a national hub for sustainable construction, renewable energy and the environment and is the key partner for companies that want to grow in the ever-evolving Greentech market.
Partner
Bruno Kessler Foundation
Bruno Kessler Foundation is a research institution operating in the scientific and technological field (Materials and Microsystems and Information Technology). Located in Trentino, the Centre has a system of laboratories for micro and nanotechnologies and the design and mass production of silicon devices. Thanks to its acknowledged expertise in the field of integrated and system sensors, the entity systematically participates in projects with Research centres and international technology networks. Optoi has always collaborated with the MTLab division, within which there are state-of-the-art facilities for the design and production of silicon sensors and microsystems and test laboratories.
iC-Haus
iC-Haus is a company founded in 1984, based in Bodenheim (Germany), an international leader in the design, development and construction of integrated circuits, ASICs and ASSPs. Optoi has been collaborating for years in various R&D projects with iC-Haus technicians and designers and is also the official distributor of its standard products for the Italian market.
University of Trento
Founded in 1962, the University of Trento has always focused on building alliances and complementarities with Italian and foreign institutions and organisations. Optoi has collaborated and still collaborates to implement various projects related to applied R&D, mainly with the departments of Industrial Engineering and Materials Engineering and the CIBIO Centre for Integrated Biology.
First Sensor
First Sensor is one of the world's leading sensor manufacturers. The company develops and produces standard and customised devices for the industrial, medical and mobility sectors. It has six production sites in Germany and is renowned within Europe thanks to a loyal network of partnerships. Several projects are underway that can boast the complementarity of the Optoi Group and the First Sensor Group.